Flag of Turkey,The Republic of Turkey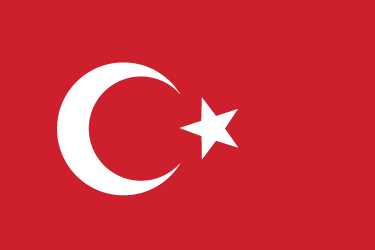 The Republic of Turkey national flag consisting of a red field (background) with a central white star and crescent. The flag has a width-to-length ratio of approximately 2 to 3.
Detail:
Adopted on: 1844 Proportion: 2:3 Country: Turkey
Story:
The national flag is rectangular and the ratio of length to width is 3:2. The red flag has a white crescent moon and a white five pointed star near the flagpole. Red symbolizes blood and victory, moon and star symbolize Islamic belief, and also symbolize auspiciousness and happiness.
Invite answers
Add answer